Yongbarang Woman Scripts Success in Onion Production
March 11th, 2022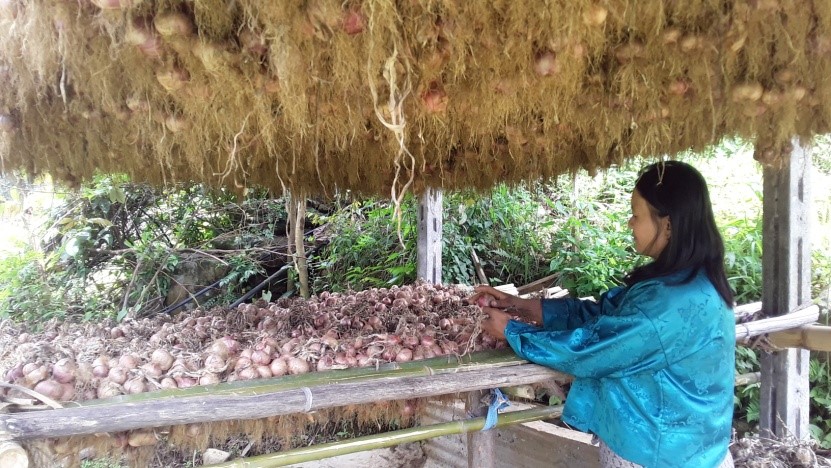 "I had to drop out of school to help my parents with farm work at home," said Cheten Zangmo, a 35-year-old.
Cheten Zangmo, who lives in Yongbarang village in Nanong Gewog, has been growing onions since 2016. She is currently married to Pema Gyeltshen, who is the same age, and has two sons and a daughter. She completed fourth grade and decided to drop out of school to help her parents at home. With the help of her husband and family, she established a commercial farm with a total size of about 2 acres. Later, in 2016, she was introduced to onion cultivation by the gewog agriculture office considering that the climatic conditions are suitable for onion cultivation and the market is assure. With the help of CARLEP project, ARDC Wengkhar, Dzongkhag and Gewog Agriculture Sector, an onion farm with a total area of about 0.65 acre was formally established. Besides onions, she also grows other commodities such as maize, mango, Litchi, chili, cabbage, broccoli, sugarcane and ginger to generate additional income.
Cheten has received many trainings, such as onion pickling and management training, and many other trainings to improve her onion production and overall vegetable production.
In a year, she produces 3,000 kg of onions and sells them at Nu.50 per kg in nearby local markets and in other dzongkhag such as Dewathang, Samdrup Jongkhar town, Pemagatshel, Wamrong Trashigang and Nganglam town. She earns an estimated amount of Nu 15,000 to Nu 20,000 per year from the sale of onions alone. In addition to onions, she earns Nu. 60000 from the sale of other vegetables and crops.
She has expanded her acreage and planted onions on additional fallow land to increase her onion production. She uses more natural fertilizers and nutrients on the fields and modern irrigation techniques for better production.
"Thanks to CARLEP, ARDC Wengkhar, Integrated Food Processing Plant (IFPP) and Dzongkhag Agriculture Sector for their consistent technical and financial support, I am able to make a living without depending heavily on my spouse's income," Cheten said.
She is now a proud wife and mother who is regarded as a role model in her community for her unwavering dedication and passion for the farming. From enrolling children in schools and universities to purchasing the essential tools for onion production, her hard work has paid off and aided her family. Through her inspired work on onion production, she has inspired school dropouts, unemployed youth, and other villages to take up such cultivation as a source of living.
Last but not least, she has made her community proud by selling and promoting our locally produced onions more widely. She looks forward to producing more and plans to export to other neighboring countries soon. She aspires to build a vibrant community that can produce onions on a larger scale and reduce imports. And serve Tsa Wa Sum by dedicating herself to agriculture to boost the nation's economy as a whole and fulfill the dream of Gross National Happiness (GNH).
Article by:Tshering Yenten, Extension Supervisor II, Nanong Gewog, Pemagatshel
Edited by: Chhimi Lhamo, GKMO, OPM