Balam Gewog farmers made aware of Sustainable land Management (SLM) interventions to mitigate climate change impacts
June 29th, 2017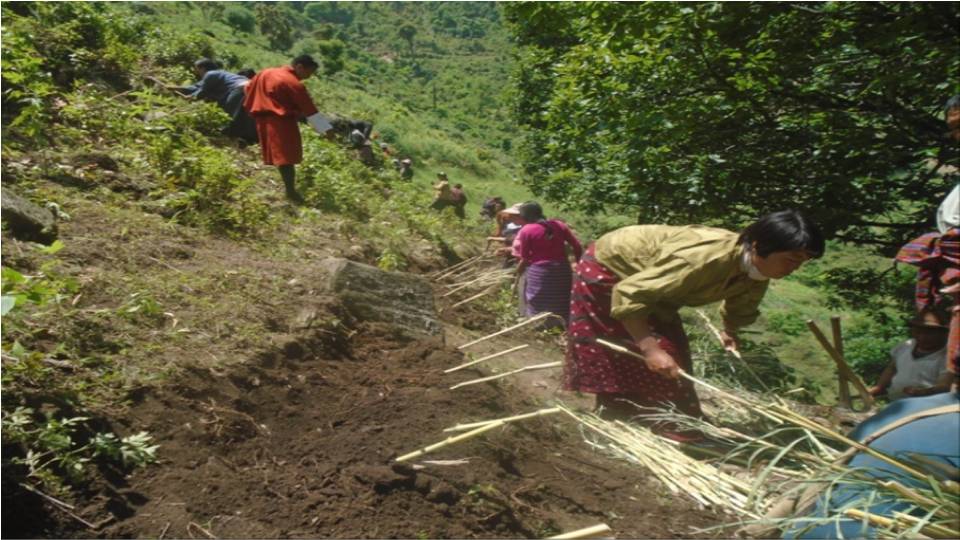 Updates by: Ugyen Wangdi (CARLEP) & Sonam Phuntsho, EO Balam
Mongar Dzongkhag identified Chapkaphai village under Balam Gewog for implementation of Sustainable Land Management (SLM) as one of the mitigation measures for climate change. Climate change has already shown some notable effects in the form of frequent landslide and soil erosion in the country.
In order to conserve limited cultivable land and mitigate climate change impact, the program was implemented in the aforementioned site as the topography of the village is mostly dominated by steep slope where cultivation is limited and further aggravated by frequent surface erosion. The village is also located at a strategic point to serve as a demonstration plot for other villages once established. Total of 1.33 acres of sloppy arable land has been brought under SLM program and will directly benefit one household and indirectly for whole villages. Chapkaphai lies at an altitude from 1200 masl to 2100 masl which otherwise is quite suitable for cultivation of varieties of Crops. However, the frequent soil erosion and landslide due to steep terrain impede optimizing the agriculture production in the village.
SLM was implemented to create awareness among farmers in Chapkaphai village on managing sloppy agriculture land through various bio engineering techniques. It was also aimed to increase and sustain food production through soil nutrients conservation. The program was conducted through participatory approach where participants are demonstrated on Sloping Agricultural Land Technology (SALT) and field practical for hands on training. Napier stem cutting and grass slip planting using SALT were some of the techniques demonstrated and the adopted.
The program was conducted for two days from 8th to 9th June 2017 and was attended by 102 participants (Male-37 and Female-65) with the fund support from CARLEP-IFAD to Dzongkhag program.