Second Batch of Lead Farmers under CARLEP Certified
October 6th, 2018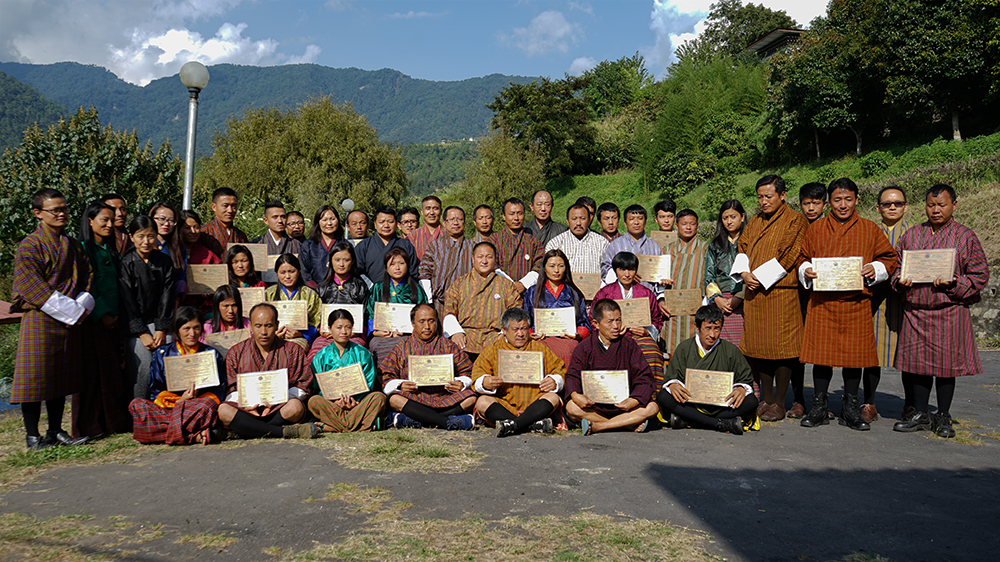 Dasho Dzongdag of Lhuentse graced the Certificate Award Ceremony of second batch of Lead Farmers on 5th October 2018 at Agriculture Research and Development Center (ARDC) Wengkhar. Thirty-one trainees successfully completed the training on Lead Farmer and received the Certificate of Completion from the Dasho Dzongdag.
The Lead Farmers training is based on module developed by ARDC Wengkhar during Horticulture Research and Development Program (HRDP-JICA) and is adopted under CARLEP. The objective of Lead farmers is to increase extension services through outreach and farmer to farmer extension; establish integrated farm models, enhance capacity of farmers and increase production, resilience and diversification.
Lead Farmer Training is spread over the course of four seasonal based training, where the same progressive farmers are nominated by the Dzongkhag and Gewog Agriculture Extensions attends the training. The four courses are;
Course 1: Awareness of the farming technology
Course 2: Crop establishment and management practices
Course 3: Crop management technologies
Course 4: Post-harvest and marketing
During the Certification Award Ceremony ARDC Wengkhar handed over the 'Lead Farmer' to respective Dzongkhag Agriculture Officers (DAOs) of six eastern Dzongkhags.
The resource person from ARDC Wengkhar, Integrated Fruit Processing Plant (IFPP, Lingmethang), Rural Development Training Center (RDTC, Zhemgang) and Regional Marketing and Cooperative Office (RAMCO, Mongar), National Soil service Center (NSSC) and National Plant Protection Center (NPPC) has imparted these 31 Farmers with both theoretical and practical lessons in their respective field of knowledge during the entire Lead Farmers' course.