Permaculture Design course
October 2nd, 2018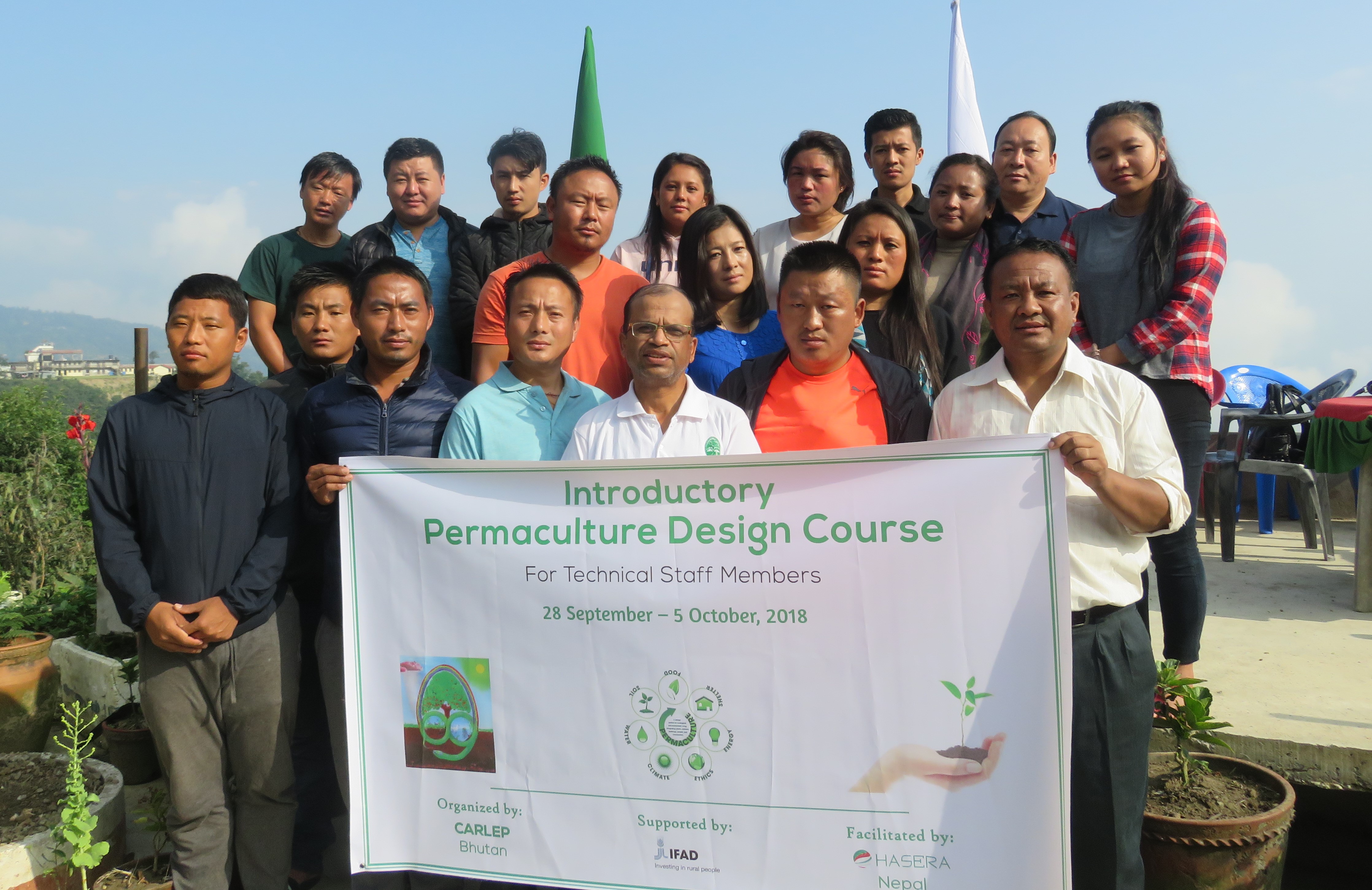 Permaculture is a design system for creating sustainable human environment through integration of traditional and new technologies of good practices. Permaculture is already exists and practiced in Bhutanese farming system, however, the ideas of designing and application of principles is limited among the practitioners
The eight days intensive training on permaculture introductory and design course is started in Nepal for 15 technical field Officers of Eastern Bhutan of Lhuentse, Mongar, Pemagatshel, Tashiyangtse, Trashigang and Samdrupjongkhar and central agencies of ARDC and RLDC. The training commenced from 28th of September 2018 and is housed in HESARA Agriculture Research and Training Centre which is around 45 km drive from Capital city, Kathmandu. The training is facilitated by Mr. Govendha Sharma, founder and Chaiman of HERARA Agriculture Research and Training center where learning and knowledge sharing on permaculture is conducted regularly and he is the certified permaculture trainer in Nepal. The training is conducted inhouse theory as well as field practical and farm visits.
In the following few days, participants will visit several permaculture farms and learn different farm set-up where different permaculture principles are applied. It is also expected to learn basic permaculture concept and able to develop/design need-based permaculture program by individual participants for respective dzongkhags. It is also expected to understand and come up with at least one model to be replicated and establish in respective sites from the lesson and ideas learnt during the course
The training will be concluded on 5th of October 2018 where participants will be practically assessed through model design based on different permaculture zones.
The training is funded by CARLEP/IFAD to strengthening the capacity of technical field officers to carry out permaculture program independently in respective dzongkhags in the following years.
Field updates from Nepal by:
Ugyen Wangdi CM, CARLEP