Empowered Woman Runs a Successful Agriculture Venture
July 30th, 2021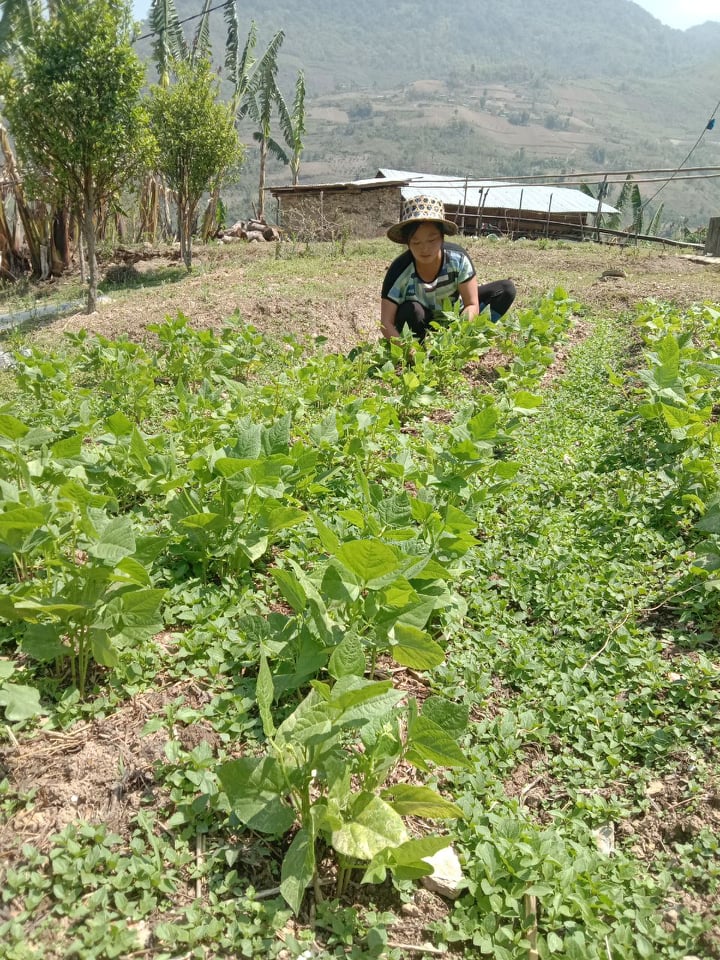 Samdrup Jongkhar Initiative
"I was pursuing a hotel management course when the country was hit by the pandemic. When the institute was closed, I had no options but to come back to my village and start up organic farming on the fallow land left by my parents." said Karma Choki.
Ms. Karma Choki, 26 years old is a high school graduate who has come back to her village, Khoyar–Gomdar in Samdrup Jongkhar amid the gloom and insecurity brought about by the COVID-19.
In June 2020, she started Organic Farming along with her husband Dorji Wangchuk, 25, on two acres of land. However, she could not make much progress in farming as anticipated due to lack of technical knowledge and inputs. Later, Karma was identified by one of the Lead Farmers from Gomdar during the Farmer-to-Farmer Extension Program and got associated with the Samdrup Jongkhar Initiative (SJI) office.
Since then, she has attended several training sessions on organic farming practices including integrated model farm development with focus on vegetable production. She received support for water storage tank and HDPE pipe to mitigate water shortage, green net for fencing, CGI sheet for compost shed, farming tools and vegetable seeds to develop her farm with financial support from the CARLEP in FY 2020 – 2021. Now, she is one of the Progressive Farmers.
In less than a year, she has produced and sold the following vegetables, cereals and cash crop in the local market of Naphung and Samdrup Jongkhar
| Sl no | Particular | Quantity (kg) | Rate/kg (Nu) | Total (Nu) |
| --- | --- | --- | --- | --- |
| 1 | Cabbage | 80 | 40 | 3200 |
| 2 | Cauliflower | 102 | 60 | 7200 |
| 3 | Beans | 100 | 40 | 4000 |
| 4 | Carrot | 60 | 30 | 1800 |
| 5 | Rajma beans | 150 | 50 | 7500 |
| 6 | Chilli | 150 | 150 | 22500 |
| 7 | Buckwheat | 200 | 40 | 8000 |
| 8 | Cardamom | 80 | 290 | 23200 |
| Total | | | | 77400 |
Given her educational background, she often explores new farming techniques and methods from YouTube and experiments on her farm. She shares her knowledge and trains other fellow farmers when needed. She has trained more than 10 farmers on preparing bio-pesticides, soil nutrient management, preparing farm yard manure and vegetable cultivation using plastic mulching.  She has also conducted farmer-to-farmer extension training programs to five farmers with support from CARLEP and Gewog Agriculture Extension officer.
"I never thought I would become so passionate about farming. I was always told farming is not profitable and it is work intensive. But the fact is, we just need to get used to it.  Now I have decided to spend the rest of my life in the village. For that, I have started building a new house with all the income I am getting from selling farm produce. Apart from farming work, my husband also earns about Nu. 50,000 annually from doing carpentry work in the community," said Karma Choki.
Currently, she is becoming a source of inspiration for many other younger generations in the community. Her farm is providing a learning platform for many people. She is also planning to extend her farm to increase the production by next year.
One of the major challenges that she faces currently is labour shortage. However, she has taken the initiative to promote a labour exchange program which is proving successful. She now has a network of six farmers for a labour exchange program.
Submitted by: Samdrup Jongkhar Initiative